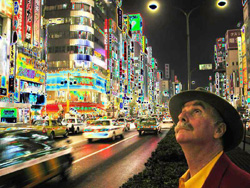 image:
Justin Hall
Jaap van de Geer
(
DOK
) intervied
Howard Rheingold
at the
Internet Librarian 2008 conference
.  Here's what Reingold said
"Well, if you think the library is a place where books are stored, then they're out of business.  If you think of the importance of knowing how to ask questions and how to verify the answers, I'd say the importance of libraries is more than it ever was before."

Unfortunately, it appears that vimeo hasn't enabled deep linking yet.  The quote is @ 1:53-2:06.
http://www.vimeo.com/2018287